The true faith writers have been reflecting on the season just gone for United and have submitted the following answers to the same series of questions on Rafa's mags.  The questions are the same for each writer, the answers different.  Read all the way to the bottom of this article for a surprise video.
Was it a successful season-
Of course.  Loads and loads of 'highs' this season and it's not often you can say that about a Premier League campaign under Ashley.  This is his joint second best league finish as owner in ten years. Ultimately United outperformed a load of sides with far greater budgets and wage bills.  The players, manager and staff deserve a tremendous amount of credit. I love them all.
Player of the season
During United's barren late autumn/winter we were a joke in central midfield.  This was no more obvious than the dual home games against Leciester and Everton when the opposition would just walk through midfield with the ball unchallenged and we couldn't lay glove on them.  Come in Mo Diame. There have been some fantastic contributions from other players but if Mo Diame doesn't find form Shelvey and Ritchie don't find form.  The team doesn't recover in 2018 and who knows that happens. So Big Mo for me.
Flop of the season
I like Jacob Murphy and he'll come good, but for such a large chunk of our transfer budget I think fans and manager probably expected better. It's not his fault Kennedy was so good when he came in but one goal and not many assists isn't a good return. Yet.
Home game of the season
Manchester United.  I don't think our opponents coped with the atmosphere.  Pressure on and United did the business when it really mattered.  A day that will live long in the memory.  I also really like the goal we scored as the 'gasp' + 'silence before he hits it' + 'noise when the net rustles
Away game of the season
Leicester for me.  A team brimming with confidence who's dominance wasn't reflected int he score line. 3,200 mags making a ridiculous noise.   A beautiful day to be a mag. This away support hasn't had much to go on for years at this level. Days like that are why we bother.
Will Rafa still be at United next season
Yes.  If he's not it's fine as it signals what the club will be under Ashley. I'd rather the bloke wasn't here if his target is to be 17th each season. He can do better that. He knows we can too.
Alex Hurst
Was it a successful season?
Yes, avoiding relegation was my main aim- particularly since Rafa was not given sufficient backing to strengthen the squad to the standard he felt he required- and to do it with 5 games to spare will do for me. There were times when I felt we would fall short but we can be pleased with 10th…let's now crack on!
Player of the Season?
There have been some great performers during the season, the consistency of Dummett, improvement of Diame, work rate of Ritchie, sheer class of Shelvey to name but a few. However, I would have to go with club captain Lascelles. A leader of men and massive influence both on and off the pitch. He adds an extra level of authority and lifts those around him. Outstanding!
Flop of the Season?
I would be reluctant to brand anyone a flop .Whatever these players may lack, it's not desire, passion or commitment to the cause. Effort is all we ask for and there have been very few times,if any, where players could be said to have not put in the effort. For that reason I'm sitting on the fence here…sorry.
Home game of the season?
The win over Man U at an absolute vital stage of the season would probably top the list but it was a 'tense, high pressure'  match with a lot resting on it and sometimes its difficult to fully enjoy such games until after the final whistle has blown. On the other hand the performance against Chelsea was top quality from start to finish and played out without the pressure, given we were safe,so I'm going for the latter.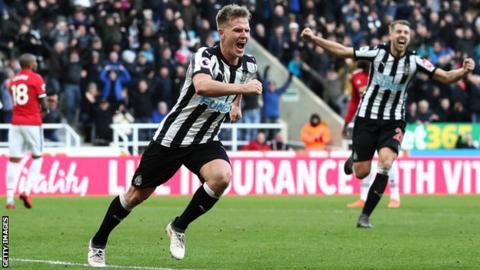 Away game of the season?
I'd have to go for West Ham. The timing of the victory was everything, coming on the back of a bad run and relieved a bit of pressure going into the Christmas fixtures. The media were starting to put the spotlight on us more than ever and some fans were even starting to question Rafa. The victory gave us the breathing space we needed at that time. Of course it's always nice to win away in London!
Will Rafa still be at united next season?
I sincerely hope so. He is a 'man with a plan', loves it here, doesn't want to leave, wants to see the club improve on and off the pitch and best of all is a top class manager. However, he needs to be backed –he isn't content to 'avoid relegation'- and nor should we. This club has enormous potential and Rafa is the man to help us realise it.
Colin Whittle
Was it a successful season?
On the pitch, it's a resounding 'yes' from me. Off the pitch, the usual lack of ambition stopped it being even better.
Player of the season?
I questioned Jamaal's playing credentials before the season started. I'm delighted to say I was totally wrong. He's been our rock. Our win / draw percentage when he's playing is hugely higher than when he's missing. How Southgate hasn't given him a go is beyond me.
Flop of the season?
I don't like saying it, but probably Jacob Murphy. We could've done with more from him. Especially as he was our most expensive signing. I do however think he's shown flashes of what he's capable of and still think he'll come good in the future.
Home game of the season?
For me, it was Manchester United. We tumbled into the drop zone just prior to kick off. I was beginning to drop into a fog of depression, but the lads turned in an amazing performance to turn over Jose's Reds. The atmosphere was amazing too. What a day.
Away game of the season?
I don't go to so many these days due to having three little fellas at home to deal with. The ones I went to were defeats at Anfield & then Wembley. Our next door neighbours went to West Ham and came home absolutely jumping. That was an amazing performance and a hugely important three points.
Will Rafa be at United next season?
Yeah, I think he will. I reckon he'll see his contract out but next Summer, if Ashley is still at the helm it could be a different story.
Nick Clark
@Clark5Nick
Was it a successful season? 
Absolutely. What this squad has achieved this season is remarkable and the lads deserve all the credit they are getting. However – if things go tits up in the summer and Rafa leaves that will sour it completely.
Player of the season?
So many to choose from here. Most of the lads deserve a mention – Dummett absolutely solid from day one, Fiame an absolute man mountain second half of the season, Shelvey the best passer in the league, Lejeune turning into a really classy continental defender. For me Lascelles has been instrumental in our solid defense but my player of the season is Perez.
Flop of the season?
It's harsh to pick anyone out but for the sake of answering the question I'll go with Merino. Showed huge promise at the start of the season and just hasn't really delivered on it. He's been unlucky with injuries and with the form of Shelvey and Diame but there is a real quality player in there and we haven't really seen it this season. Head turned by the Bilbao interest?
Home game of the season?
Man U. Chelsea game in second. The collective defiance and noise versus Man U was brilliant. Absolutely pivotal result as well.
Away game of the season? 
Leicester. The lads knew that was the game where we sealed survival. So did the fans. Away end was bouncing the entire 90 mins. The lads put in a fucking brilliant performance. Watching them all come over to the away end at the end of the game and chuck their shirts into the crowd will live long in the memory. One of my favourite ever away days.
Will Rafa be at United next season?
Yes. This club is nothing without him and even that wobbling pile of shite Ashley must see that now. Surely? Please?
Michael Carling
Was it a successful season?
I predicted 8th, so I should say no, but we were just about there a few games from the end and I was being wildly optimistic to start with because I thought Rafa could take us higher than any club promoted from the championship had ever gone before.  He didn't quite manage that but he got bloody close, would have been closer if Burnley  weren't so jammy in every one of their 38 games too.  Especially considering the disappointing transfer windows it's been beyond what most would have imagined.
Player of the season?
Lascelles. In January it would have been cut and dry but it's a much closer decision than I thought it would be. The recent form of Diame, Shelvey, Kenedy and Dubravka have been hugely important to the final position and points haul and if there was an award for effort Ritchie would win it every day.  Love him. But over 38 games the captain has been hugely influential so much so he gets all the credit for Diame's resurgence too, after giving him a slap.
Flop of the season?
Slimani. It was a beautiful half hour against Arsenal but we should never have been in the position of loaning a crock as the transfer deadline loomed.
Home game of the season?
Chelsea.  After the last three years I hope we're at home on the last day forever. Rafa always sends us off with a smile,  Man U was much more important but I far prefer the party when three goals clear to the nerves when it's just one.
Away game of the season?
West Ham. Assured cult hero status for Saivet.
Will Rafa be at United next season?
I'll repeat my (100% correct) prediction from when TF asked this in August 2017 – "Absolutely, twice the hero he already is and pockets bulging with much more to spend."
Chris Holt
Was it a successful season?
Yes, given the budget Rafa had available it was extremely successful. The improvement he's made on the squad since August has extraordinary and to finish in the top half was a nice little treat n all.
Player of the season?
The Skipper. Superb again all season. When he's not in the side he's truly missed, a leader in the mould of Shearer, Lee and Speed Flop of the season?
Joselu and Manquillo can share it. Both miles say from this level.
Home game of the season?
Man Utd. Always love beating them, but the importance of the win that day was massive.
Away game of the season?
West Ham away – see above.
Will Rafa be at United next season?
If he's not I'm not sure I see what the point in NUFC is. I'll go with a hopeful yes.
Jack Mclean
Was it a successful season? 
Based on how little was spent on improving the squad it was a very successful season. Expectations were low, many would've happily accepted 17th at the start of the season to hear that some are a little disappointed with 10th shows just how well this group of lads have performed. That excellent run of results from the turn of the year had us looking at 8th maybe 7th, even if was only for a couple of weeks it has been a long while since we as fans actually looked at that section of the league table.
Player of the season?
Difficult one as there have been so many great performers for large parts of the season.  Diame has had a excellent season particularly since the turn of the year and has been influential in the great run we had.  Dubrakva and Kenedy made huge impacts when signed in January.   Perez has been great, could easily buckled under scrutiny from some quarters but kept plugging away and has end up our top scorer.   Lascelles & Ritchie are part of trio of players we have that we miss when they're not playing, and have been so influential.
The third player and that trio is Shelvey and he's the one that gets my player of the season. Mainly because it could've all went wrong for him after the Spurs sending off but it didn't, he learnt from it and got stronger as the season went on. He offers us something different to what other teams have and has been consistently excellent.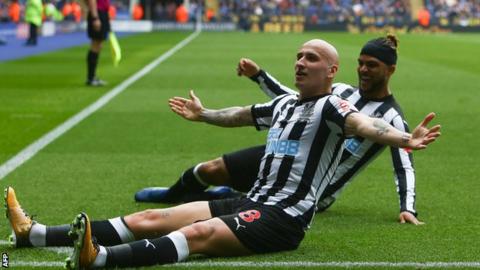 Flop of the season?
I probably expected more from Merino this season, for whatever reason it hasn't happened for him whether that be injury or being unsettled I dunno. When he's had a run of games you can see he has talent and I had high hopes he was gonna make a big impact this season but the team has moved on without him and I wouldn't drop either Diame or Shelvey for him at the moment.
Home game of the season?
It's got to be one of Man U, Arsenal and Chelsea I think I'll go with Arsenal Just because it of what it meant in terms getting over the 40 point line. The lads showed that they wouldn't be beaten, to go a goal down against a superior side in the past has meant that we'd go on a lose by a decent margin but not with this bunch of lads. Atmosphere was excellent and it just felt like we'd achieved something and that we no longer feared anyone.
Away game of the season? 
Easy one for me, has to be Leicester. Great performance, fought like lions I've never celebrated 7 tackles before it was like celebrating 7 goals, unbelievable! The away end was fantastic and the scenes at the end with Rafa and the players on the pitch were brilliant.
Will Rafa be at United next season?
I think so, Rafa's a loyal man he'll see out his contract at least. He's stated quite clearly he wants to stay, he knows what it'll take to take the Club to the next level, it's not £300 million overnight he just wants sensible, steady investment in the right areas over time. If Rafa is done over by the Club not acting on his hard work behind the scenes then he'll go somewhere that will. The longer Rafa is at NUFC the better NUFC will be for it.
Paul Lyon
Was it a successful season?
Oh yes. After the summer transfer window when we ended up with a ragbag of ones for the future and square pegs for round holes to add a to a squad widely believed to be of Championship standard and no more, optimism was in short supply. To end the season comfortably in mid-table, safe with several games to go, and with 7 or 8 first-teamers we're very happy with for next time out is better than anyone could have imagined. A number of the players have stepped up and proven themselves capable of doing very well at this level and it's to both their credit and the manager's that it's happened.
Player of the season?
There are a number of worthy candidates for this. Probably the player who's single-handedly made most of a difference to our results has been Martin Dubravka. The on-loan keeper has been a revelation. When you're looking to win games only by the odd goal, a reliable steady keeper who doesn't make many mistakes and can pull off saves he has no right to make is a valuable asset. We have to finalise his transfer. Following his switch to a defensive midfield role alongside Shelvey, first seen I think away at Burnley,  Mo Diame has made a huge contribution to our defensive solidity, breaking up opposition play and winning the ball back. He's also become a real force driving the team forward from deep. He's the player Moussa Sissoko should have been but wasn't. Purely for consistency though, my player of the season would be the skipper, Jamaal Lascelles. We do well when he plays and we don't when he's not there. There's an encouraging partnership with Lejeune developing, and he's a real leader. His character seems imprinted on this team now.
Flop of the season?
Islam Slimani came with a good reputation but hadn't played much for Leicester since joining them nearly 2 years ago. He hasn't played much for us either unfortunately. We were really hanging our hats on him in January to score the goals that would keep us up but we barely saw him on the field. It turns out we were fine without him but it's lucky we were because his stay has been ineffectual and if we'd had to rely on him we would have ended up left wanting more.
Home game of the season?
The win v Manchester United in early February was possibly our most important home win of the season. We'd gone a long time without a win at home in the league, 8 matches, stretching back to our win v Palace in mid-October. We needed a win at that point so very badly. We'd slipped to 16th by then, despite a decent couple of results over the Christmas period. This win was so unexpected in the circumstances, the players fought and worked so hard and the crowd gave such great support, it made for a memorable day.
Away game of the season?
Leicester (a) in early April all but made us safe for the season. Against a side who'd looked head and shoulders better than us at SJP in December, we took the game to them, got ourselves a two-goal cushion, worked hard and then were calm enough to maintain the winning lead. Pretty much the perfect away performance.
Will Rafa be at United next season?
I have my doubts. A leopard doesn't change its spots and I don't expect Mike Ashley to change what he does this summer either. Rafa will struggle to find out what his budget is never mind get to spend it. The only unknown quantity I can see is whether Benitez will be sufficiently upset to leave. He's been here over two years now so he can hardly call it a surprise when Ashley does his thing yet again. Perhaps this summer will be final confirmation of the futility of Rafa's position and he'll opt to stop trying. Prove me wrong Mike.
Mark Brophy
Was it a successful season?
Massively
Player of the season?
Jamaal Lascelles, big Mo since January
Flop of the season?
Mike Ashley
Home game of the season?
Man Utd for the most important result. Chelsea for best performance.
Away game of the season?
Leicester
Will Rafa be at United next season?
I'm very doubtful
Peter Willis
Was it a successful season?
To finish in the top half meant it was an extremely successful season and the majority of the praise goes to Rafa. We were out-spent by our fellow promoted teams coupled with the fact that "fannying-on" (a delightful and very underused phrase) by the imbeciles in the boardroom meant that Rafa missed out on numerous targets and was forced to lamp the panic button at the last minute and bring in Stoke's 4th choice forward as basically an extra body. If he had of been backed in the summer with a proper goalkeeper and centre forward then I'm convinced that we would have finished 7th and would be embarking on another European campaign next season.
Player of the season?
Lascelles has been our most consistent throughout the full season so he takes the award but Diame has been absolutely unbelievable since West Ham away. There can't be many defensive midfielders anywhere in the world who have performed to the levels that he has done in 2018. The transformation from first half of the season to the second half has been astonishing and I assume that his lass presented him with Yaya Toure's footballing ability from 2011-12 as a Christmas present.
Flop of the season?
It would be harsh to single out any player as they have all grafted their bollocks off and we knew what we were getting with some of the squad-fillers we signed so I'm going for Sky Sports. They selected us to be on TV about 74 times on a Sunday including every world round trip as well as the complete shambles they made of Everton away – tossers.
Home game of the season?
Man Utd. You could say that morale was slightly low in the boozer pre-match watching Huddersfield batter Bournemouth 4-1 to send us into the relegation zone especially with two away matches coming-up one of which was at Anfield. We had a new overseas 'keeper in nets who not many had of heard and the displays of the shakier than Shakin' Stevens Matz Sels in nets for us immediately sprung to mind. What followed was the turning point of the season. A commanding and superb display by the overseas 'keeper who everyone has now heard of and loves and a huge three points which was pivotal to our survival.
Away game of the season?
It's a tight call between West Ham and Leicester but I'm opting for our first visit to the 'shit-to-watch-football-and-cost-them-about-£8' stadium. We went into it on the back of a nine match winless streak and the knives were well and truly out for Rafa by the media as well as an extremely small percentage a.k.a the moronic element that "support" us. A very good performance in which we scored three times, hit the woodwork three times and came away with the three points. The Christmas spirit factor also played a massive part in this being a superb day albeit the Christmas spirits consumed in the boozers around Leicester Square afterwards also meant it was a rather expensive one………..
Will Rafa be at United next season?
I certainly hope so as I wouldn't swap him for any manager in the world but it's easier to predict the Trumpsta's next move than our current idiotic owner's. There are several Premier League jobs already available and it seems that West Ham have made Rafa their first choice target. That doesn't mean much as Emily Ratajkowski is my first choice target but if he does leave us for them and their much maligned "dildo brother" owners then that tells you everything about Mike Ashley as a football club owner. Numerous players have stated how it is imperative that we keep him so the implosion if he was to go will be catastrophic which worryingly Ashley seems to revel in………
Paully.
Was it a successful season?
I predicted 11th to 15th based on where we were at when the August window was closing so a big yes. The vast majority of supporter expectations were realistic and you sensed from the atmosphere and applause at the end of the Chelsea game that everyone deemed the campaign a very decent one.  Then again, it could have fell flat if 4 defeats in a row became 5!  But overall, a massive team effort and you feel only Rafa could have got that from the players at his disposal.
Player of the season?
I predicted Shelvey, Ritchie and Dummett would be crucial to our season and all, particularly Shelvey in the last few months, performed to a very high standard.  For me, I love seeing a player prove the boo boys wrong and Dummett certainly did that.  But overall the player of the year has to be between Lascelles and Diame.  The former was arguably our most consistent performer where as Diame, on his day, was unplayable and stopped everything coming his way.  As with Dummett, he has come a very long way to have the supporters singing his name as the season ended.  Diame, just.
Flop of the season?
I wouldn't say "flop" but Atsu certainly flatters to deceive, looks lazy at times and his final ball can be poor.  Reminds me of Franz Carr, albeit a rather more expensive one.  Rightly dropped once Kennedy came in, i'd expect to see him moved on if we have aspirations for progress.  As a side note, Mitrovic is not as good as the fanfare would suggest and the day he leaves will be a good day for Newcastle United as it will end this ridiculous split amongst the support.
Home game of the season?
As unexpected as the Man United result may have been (bottom 3, no win in 4), I really fancied us that day.  The Arsenal comeback was brilliant, but their away record and turmoil with the manager means the Chelsea win has to be the best.  We got at them from the first minute, controlled the game, Diame and Shelvey immesnse, Perez playing arguably his best game for the club…every one in Black & White were on top form and with an atmosphere to compliment it, beating the last season's champions wins it for me.
Away game of the season?
I had the misfortune of attending only 4 games of which we lost all 4 and never scored a goal! Out of those 4, it would have to be Spurs as it was the last night of my 30s and, despite the defeat, we put in a very decent performance.  Surrounded by lads I've went to the match with for 30 years, the beer flowed well into the early hours so perhaps a great trip if not away 'match.' I must admit, I was gutted I missed Leicester as that sounds like the game you had to be at.
Will Rafa be at United next season?
It doesn't take a genius to work out that Mike Ashley can basically make or break our progress and I have a horrible feeling that, almost 10 years since Kevin Keegan's position became untenable, that Rafa will do the same.  Then again, would he leave one basket case club for another?
If you believe the influential Sky(bet) then No.  If you follow your heart, yes. 
But if he goes, then 30+ years of support ends for yours truly.  I just hope it doesn't come to that.
 Marc Corby
Was it a successful season?
Yes. Was unsure whether we would survive. Man Utd the turning point in February.
Player of the season?
Lascelles. Transformed and matured from a rocky 16-17 into a great leader and emerging Centre-Half.
Flop of the season?
Manquillo perhaps. Almost all have met or beaten expectations.
Home game of the season?
Chelsea H. The joy of following United in 90 minutes. Such a good positive feel to the day and against a hated opposition.
Away game of the season?
Leicester A. Could and should have been 4-1 had it not been for Maguires escape giving LCFC time to regroup. Electric in the first 15 minutes.
Will Rafa be at United next season?
No. Noises in media seem like signals from a man whose had enough of being fucked about. Id be seriously surprised if Ashley honours Rafa's ambition.
Guy Hannay-Wilson
Was it a successful season?
100%. I think it fell in line with many of our predictions before a ball had even been kicked and, to a certain extent, that's indicative of the fact it has been even more successful. I think I assumed wed be getting 2 or 3 permanent signings who'd slot straight into the first team and be class acts. That never happened and we've stayed up, comfortably, with the bulk of the squad being that from last season in the Championship. In addition to that, not 1 single player has regressed. They've all improved. Some of the performances, pre and post 9 game blip, have been outstanding. I've enjoyed it more than any other season since 2002/03.
Player of the season?
I said it on the podcast, without coercion I must add (!), so I'll say it again – Matt Ritchie. His importance to the side can't be underestimated. The graft, the desire, the energy and the love for what he does, alongside the fact he creates a ridiculous amount of chances, make him a vital part of the team. He's an absolute diamond.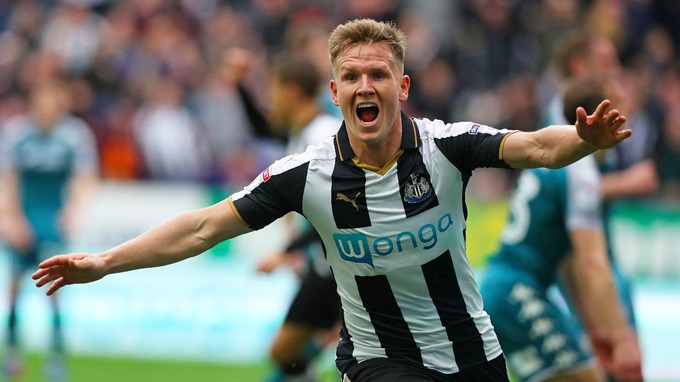 Flop of the season?
Mitrovic. He may well have left in January but he had a full summer and 4 months to show Rafa that he could do a job, that we didn't need to sign another striker because he'd listen and take on the responsibilities given to each player in a tightly-knit squad in which each player has instructions that have to be obeyed. He came on against West Ham, scored, did well….needlessly elbowed Lanzini in the face. It could've been so good for him this season but he doesn't appear to care enough.
Home game of the season?
West Ham. First goals. First win. Sunshine. Perfect.
Away game of the season?
West Ham. 3 goals. First win in 9. Bastard freezing. Christmas. Perfect.
Will Rafa be at United next season?
As I type this he's already having sat in Nando's at Stratford Westfield with Brady, Gold and Sullivan apparently.
Norman Riley